From design to maintenance
of production systems
Automation Technology srl takes care of the entire process,
from the design to the maintenance
and post-activation assistance of the new automation systems of your company
Assembly and commissioning
Precollaudo in the premises
Final testing at the customer
We specialize in both 2D and 3D parametric industrial plant design. We deal with mechanical design in a "virtual" way with advanced 3D drawing tools, thus keeping all project information under constant control.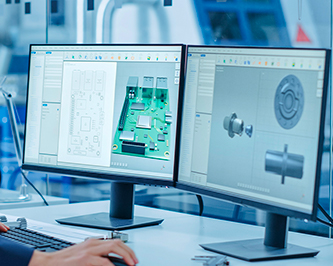 We have a complete department of all the equipment necessary for the realization of the metal structures integrated in our plants.
Shears, Bending Machines, Mig/Tig Welding Systems and Plasma Cutting.
Our machining is internally designed and performed by highly qualified personnel.
Our mechanical workshop counts with precision machinery such as :

HAAS VF5SS 3-axis milling machine
DOOSAN DNM 6700 3-axis milling machine
DMG MORI CMX 50U 5-axis milling machine
EXCETEC V500G Wire EDM